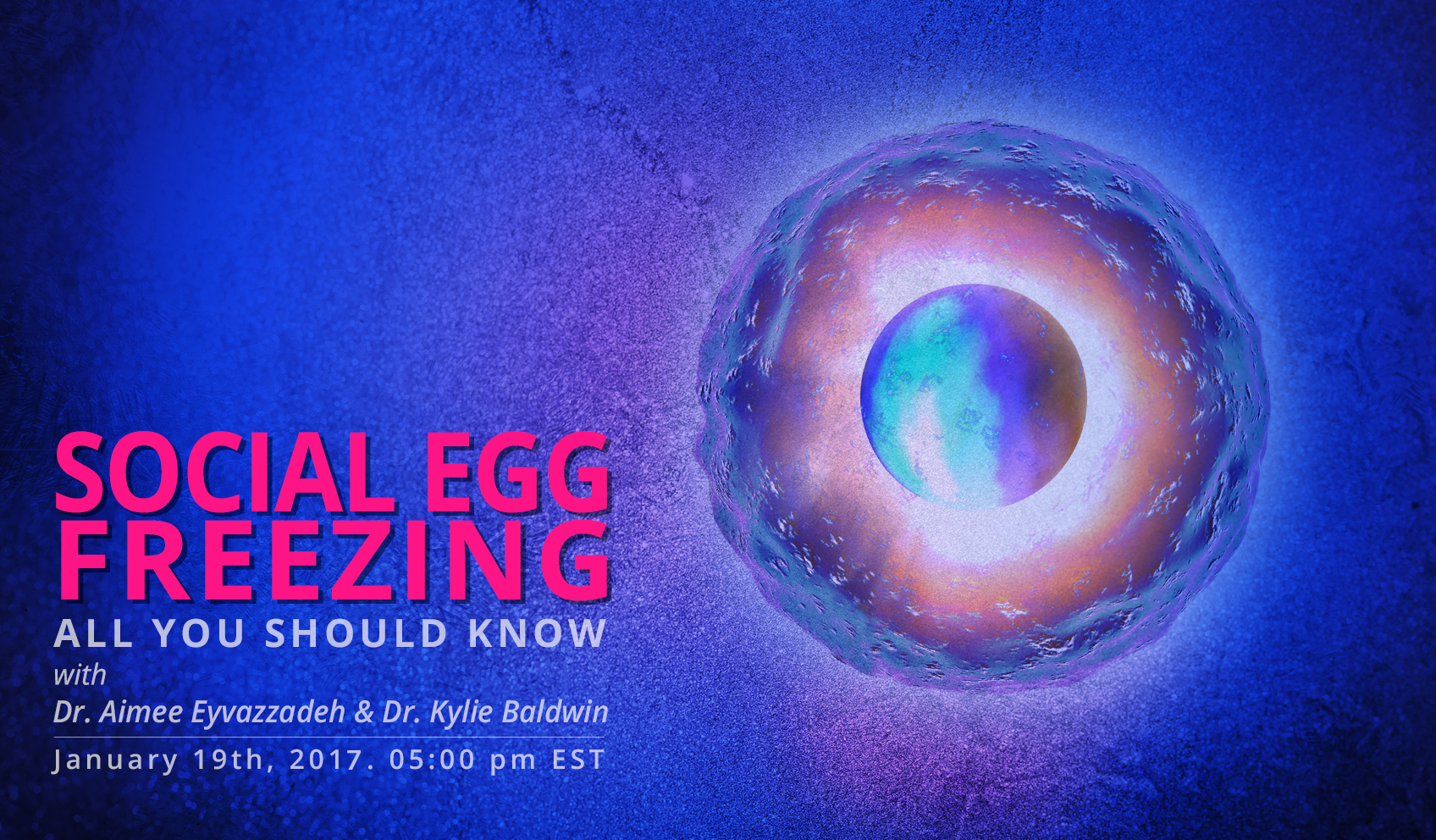 Social Egg Freezing All You Should Know: Social egg freezing less commonly known as non-medical egg freezing is being increasingly seen as a secure way of delaying childbearing by more and more women, especially in the US. But is it safe for all women? Who should be opting for it? What do the specialists think about it?
In late 2012, the American Society for Reproductive Medicine (ASRM) and the Society for Assisted Reproductive Technology (SART) lifted their "experimental" label for egg freezing, but both cautioned against egg freezing, owing to limited data on safety, efficacy and emotional risks involved.
We are talking to reproductive endocrinologist Dr. Aimee Eyvazzadeh and sociologist Dr. Kylie Baldwin to know the current status of social egg freezing in the United States and the United Kingdom, along with egg freezing perspective by Shalene Petricek of Nest Egg Fertility and Valerie Landis of Eggsperience.
CureTalks — Social Egg Freezing, All You Should Know
Thursday, January 19, 2017 at 5pm EST — Listen to the discussion
Dr. Aimee Eyvazzadeh | Dr. Kylie Baldwin | Shalene Petricek | Valerie Landis | Shweta Mishra
Dr. Aimee Eyvazzadeh is a reproductive endocrinologist and fertility specialist known as the "Egg Whisper" and for her Egg Freezing Party for patients to learn about cryopreservation. She is one America's most famous fertility doctors. Her success rate at baby making is what gives future parents hope when all hope is lost. She has had a hand in creating thousands of happy healthy babies. Dr. Aimee is a Harvard educated boar certified OBGYN, specializing in Reproductive Endocrinology and Infertility. But it's her Egg Freezing Parties that put her in the limelight and made her a media darling. She has been featured in magazines like People and Marie Claire and has been featured on the Today Show, Good Morning America, CBS Morning, Fox Network, along with a number of local and international newscasts. In her off-time, Dr. Aimee is a mom to four rambunctious young kids aged 8 to 5 months. Her goal to teach everyone about fertility awareness and how to #GetAheadOfInfertility.
Dr. Kylie Baldwin is a medical sociologist specializing in reproductive aging, infertility, and fertility extension technologies such as social egg freezing. She is a Senior Lecturer in Sociology with the Reproduction Research Group at De Montfort University (UK) and recently completed a research study which explored women's use and experience of social egg freezing in the UK and USA. Dr. Baldwin has presented her research findings at the national and international level and her research has received widespread media attention and has been featured and discussed on the BBC, Radio 4, as well as in The Guardian, The Telegraph, The Times, and The Independent. She is the convenor of the British Sociological Association's Human Reproduction Study Group and runs several reproduction research-related events each year.
Shalene Petricek is the founder of Nest Egg Fertility to provide women and families to help to navigate the fertility journey and creating the experience she wishes she had when she froze her eggs. With seventeen years in the biotech industry, Shalene is not only an industry veteran but a client, having preserved her own fertility through cryopreservation before most people even knew what that was. The recipient of several awards of excellence in her previous career, Shalene started Nest Egg Fertility with the intention of creating the experience she wishes she had had. Shalene has always had a passion for science and helping others. She is driven by her desire to make a difference and change the way we approach women's healthcare. Today, she's a leading expert in the field of infertility, frequently consulted by world media outlets such as HLN, CNN, The Los Angeles Times, and Sunday Night Australia. When not busy helping create families, Shalene loves cooking, traveling, and finding the human connection with people across the globe.
Valerie Landis has been working in the women's healthcare field for the last decade. She focuses on guiding women of any reproductive age through the complex and challenging paths of fertility decisions. Valerie merged her medical career and fertility passion when she created and founded the educational website eggsperience.com. Valerie has traveled to build partnerships with fertility clinics all across Europe and the United States. Valerie hopes that by starting the conversation about protecting our future-selves with non-bias and fact-based information, women will feel inspired, brave, and act progressively today. She speaks openly about her personal egg freezing experience and family planning decisions along with highlighting a collection of first-hand accounts from other women's journeys. Learn more about Valerie via her online social media accounts or linktree.
Shweta Mishra is a co-founder and host of internet radio talk show CureTalks, author, blogger, and biochemist passionate about the science behind happenings of life. Shweta is a biochemist, nutritionist, and a diabetes educator, passionate about the science behind happenings of life. She finds deep interest in research, reading, and writing on various medical/scientific issues of which fertility is close to her heart, being a survivor. Now a new mom, she struggled through 7 years of infertility to get her son through IVF. Her past experiences include research in cell biology, validation and value addition of herbal formulations, writing consumer articles for the pharmaceutical and nutraceutical industry on subjects like preconception nutrition, infant and child nutrition, cancer, infertility, and assisted reproduction techniques including teaching biochemistry and diabetes pathophysiology. Having gone through the pains and emotional upheavals of infertility, she is an aspiring fertility advocate and wants to help as many people as possible to overcome the depression, and guilt associated with infertility and reach the joys of parenthood, by educating through her research, discussions, and writings on this issue.
Original post by CureTalks on 19 January 2017: https://www.curetalks.com/event/rsvp/Social-Egg-Freezing-All-You-Should-Know/264/