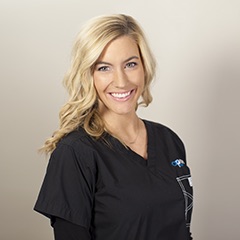 My name is Whitney Bischoff. As women, our fertility is one of our most precious possessions. It is inevitable that with time, it will vanish. I wanted to protect, guard, insure it. My decision to freeze my eggs was made much differently than most. Although I knew I always wanted to be a mother, I didn't wake up one day with an epiphany that I should be married and have children by now. I was not freezing my eggs because I was single, in grad school, or had a highly stressful job on Wall Street. No, I was generally healthy and only 27 years old.
Throughout the 7 years I've worked as a fertility nurse, I've had the privilege of working with a lot of patients trying to have children. At this point in my career, I was specializing in third party reproduction, in which patients must rely on a donor egg or surrogate to have a child. With the latest media attention around egg freezing, these patients were consistently voicing their frustrations of how they wished they would have known about egg freezing and asking why wasn't this option available for them. I heard this over and over again and I struggled with the idea of why I wouldn't freeze my own eggs. I made the decision to move forward and it was truly the best decision I could have made for myself.
Egg freezing has everything to do with empowerment. It's made me feel empowered about my future and it's made me a better nurse in terms of helping others. We shouldn't have to settle or rush into anything and now we don't have to. It is amazing that as women, we can have it all.
I froze my eggs in 2012 and my career as a fertility nurse has continued to flourish. In part, I feel this is because I know what it's like to be the patient. I speak from experience and also work in a field that I am extremely passionate about. It is my mission to reach out to women and educate them on their options and taking control. I guarantee there would be a lot less fear and heartache and a lot more confidence and security in our lives if we took a more proactive approach versus living reactively.
Many women just don't know about egg freezing and knowledge is power. I find such fulfillment in helping to educate women about this and know that I had a role in that life-changing, empowering decision. It is so rewarding to see a woman make the decision to freeze her eggs.
We will be launching OVA, a new revolutionizing egg freezing specialty center in downtown Chicago. The first-of-its-kind program will help make egg freezing more accessible and affordable to women everywhere. Our team of egg freezing coordinators and patient advocates will be there 24/7 to help patients navigate every step of the process.
We want to shatter everything you once thought about egg freezing and create a program that's truly unique, customized and groundbreaking. I couldn't be more excited to start introducing patients to this game-changing program. OVA is the brainchild of aParent IVF laboratory in Highland Park.
Facebook Whitney Bischoff
Twitter @whitbisch
Instagram @whitb624
Other articles written about Whitney:
Fusion: Why freezing my eggs at 27 was one of the best decisions of my life
Shape Magazine: Whitney Talks Egg Freezing