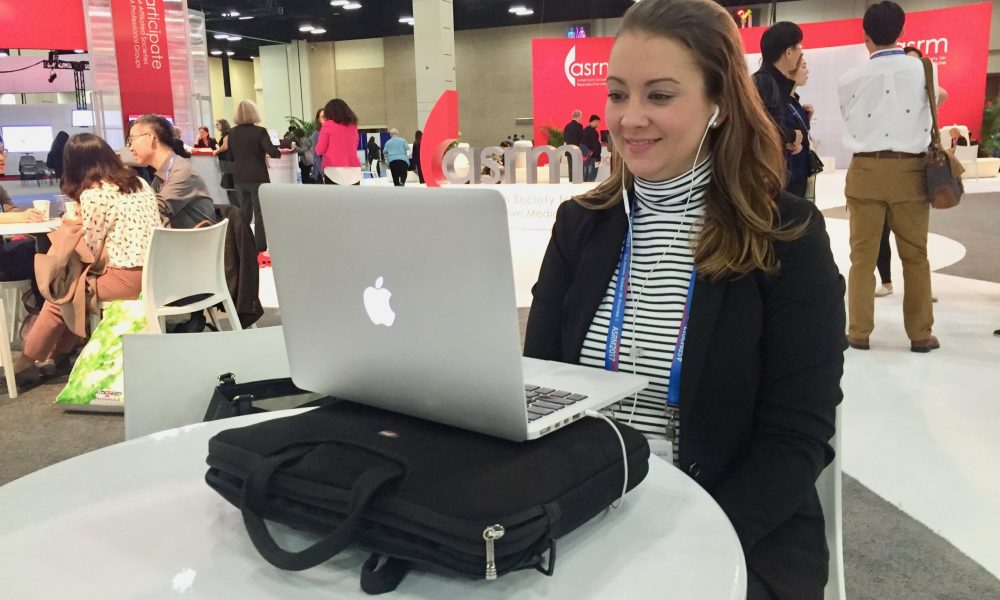 Meet Valerie Landis of Eggsperience & Eggology Club Podcast in River North. Today we'd like to introduce you to Valerie Landis. Thanks for sharing your story with us Valerie. So, let's start at the beginning and we can move on from there.
Eggsperience.com is an educational website to teach and inspire women to learn about their reproductive health options such as egg freezing, cryopreservation, and family planning choices. Not to be confused with the breakfast restaurant, Eggsperience started with the simple goal in mind to provide all the resources, education, and knowledge in one place.
I built Eggsperience after my own egg freezing journey in 2015 partly due to my frustration of lack of resources online about the topic, but also as a way to share the information I did know to pass along for others. I had been educating my friend group on reproductive health topics for years.
For the last decade, I have worked within the women's healthcare space selling everything from birth control, hormone replacements, to disposables and capital equipment in fertility clinics, to improving patient education information and completing clinical research trials. When I became the patient myself I saw the technology of egg freezing through a different lens and everything it could do for me.
In the last 3 years, the website has grown and branched out into podcasting as well with a show called Eggology Club. Each week I try to curate new content to build the resources and stories of others for unique journeys to parenthood. A big part of the website beside the regular articles was the stories of other women's paths leading to egg freezing/fertility journey. Now the podcast Eggology Club focuses on all of these topics at hand to compliment the website and broaden the audience base or provide the content in other forms to be consumed.
All of these resources are coming from a medical related, experience, and educational background with the fertility space. Key tips, tricks, and insider info is shared with the audience to provide the best skill set and guidance for those desiring the information. I am constantly checking the pulse of the demographics to provide important resources, information about key topics of interests, and keep up with current trends.
All the information is given with the patient or future patient in mind. The site is free and offers unbiased perspective of the space from the inside. As a patient advocate and patient centric-focused fertility founder, I help demystify and debunk common myths or misconceptions to provide truth fact based concepts that are easy to consume. I hope the website encourages women to act boldly in their choices, progressively to have everything they dream of, and in addition to the pursuing goals of parenthood on the time table that make sense for them.
Has it been a smooth road?
The website has always been a joy, but it has not always been easy. When I first started out I couldn't get anyone to interview with me and when I could get someone to tell their story they didn't want to say their real or full name. I had to gain their trust before telling their story. The more stories I told and people I interviewed helped others to learn about the technology of egg freezing.
I also worked for companies that asked me to shut down the website while I was employed with them. I had to decide if working for that company was worth it. The nature of the content was so personal to me. After many different women agree to tell their story publicly, I then had to compete with competitors in the space creating "me too" copycat websites or trying to profit off patients.
The space of fertility has become a hot sector in business to gain profits and appear to make money. With that has been a whirl wind and plethora of industry products and services to profit off this economic environment and system. I have been slowly growing the network to reach more individuals.
I have self-funded this project, spent all my free time on this project, and curated and created all the content on the website and podcast myself. I have recently accepted guest articles to help build the network of the audience reach and exposure, but for the most part, pursued all business relationships with single focus of patient awareness and education foundation. My goal is that each interview and story I tell helps other women feel empowered and motivated to act progressively for their futures.
So let's switch gears a bit and go into the Eggsperience & Eggology Club Podcast story. Tell us more about the business.
I have been working in the women's healthcare space including oncology, reproductive health, sexual health, and fertility for over a decade. I have focused my business on reaching the younger demographic to think about their family future the same way as we are taught to think about our retirement or careers. I specialize in giving resources and education for egg freezing and cryopreservation along with exploring many other pathways to parenthood. I am known as the egg freezing guru, but more importantly I want to be the leader to help women understand their own bodies and not be afraid to make bold choices to protect their reproductive future. Most people do not comprehend that women are born with all the eggs and biology to create life where as men continuously create new sperm and cells to reproduce their entire life. Because of this difference is why the biological clock for women is real and important.
I'm most proud of the network I've been able to curate over the last 3 years. My brands Eggsperience and Eggology Club are different from other online websites or podcasts because the educated resources are coming from the inside (like from a clinic perspective), but with patients views in mind (sensitive and catering to patients). My company is not trying to profit off of women or patients that do not know this information. All of our services, content, and resources are free. We are not trying to profit off of patients. We offer this free of charge to show our transparency and our commitment to making sure the next generation of young people are taught the correct information instead of only knowing how "not to get pregnant" idea. It is empowering for people to understand these concepts and I think it would be wrong to profit of this lack of knowledge. I believe in the power of sharing information. I take this concept very seriously and want to be the mission of my brands.
How do you think the industry will change over the next decade?
The industry is expected to grow exponentially. By 2020, it is projected that over 78,000 women will egg freeze their eggs. That is an incredible increase from only 5,000-8,000 freezers in 2013 and 2014 to 15,000 freezers in 2015.
The need for fertility treatments in general have been in higher demand and keep increasingly become important due to the trends of couples getting married later in life, starting families at older and older ages, to more women in elevated roles within the work place. Just examining how celebrities are speaking out more openly about fertility related issues and treatments it is clear to see that the trend will increase.
As with any big trend or shift in the market place, I hope to provide key information and education for those to navigate the system. All of my solutions and information is to provide a step by step guide to avoid common pit falls or over paying for unnecessary treatments.
A lot of new organizations, companies, and products have come to the market space of fertility, but not all work or can help depending on the situation. I shed light on these new companies and products to demystify the industry and help individuals make the most educated choices for themselves so they don't loose time or financially over spend.
Contact Info:
Address: Eggsperience & Eggology Club Podcast
c/o Valerie Landis
125 South Clark Street 17th Floor
Chicago, IL 60603
Phone: 978-344-2582 (978-EGG-CLUB)
Email: info@eggsperience.com & eggologyclub@gmail.com
Getting in Touch: VoyageChicago is built on recommendations from the community; it's how we uncover hidden gems, so if you know someone who deserves recognition please let us know.