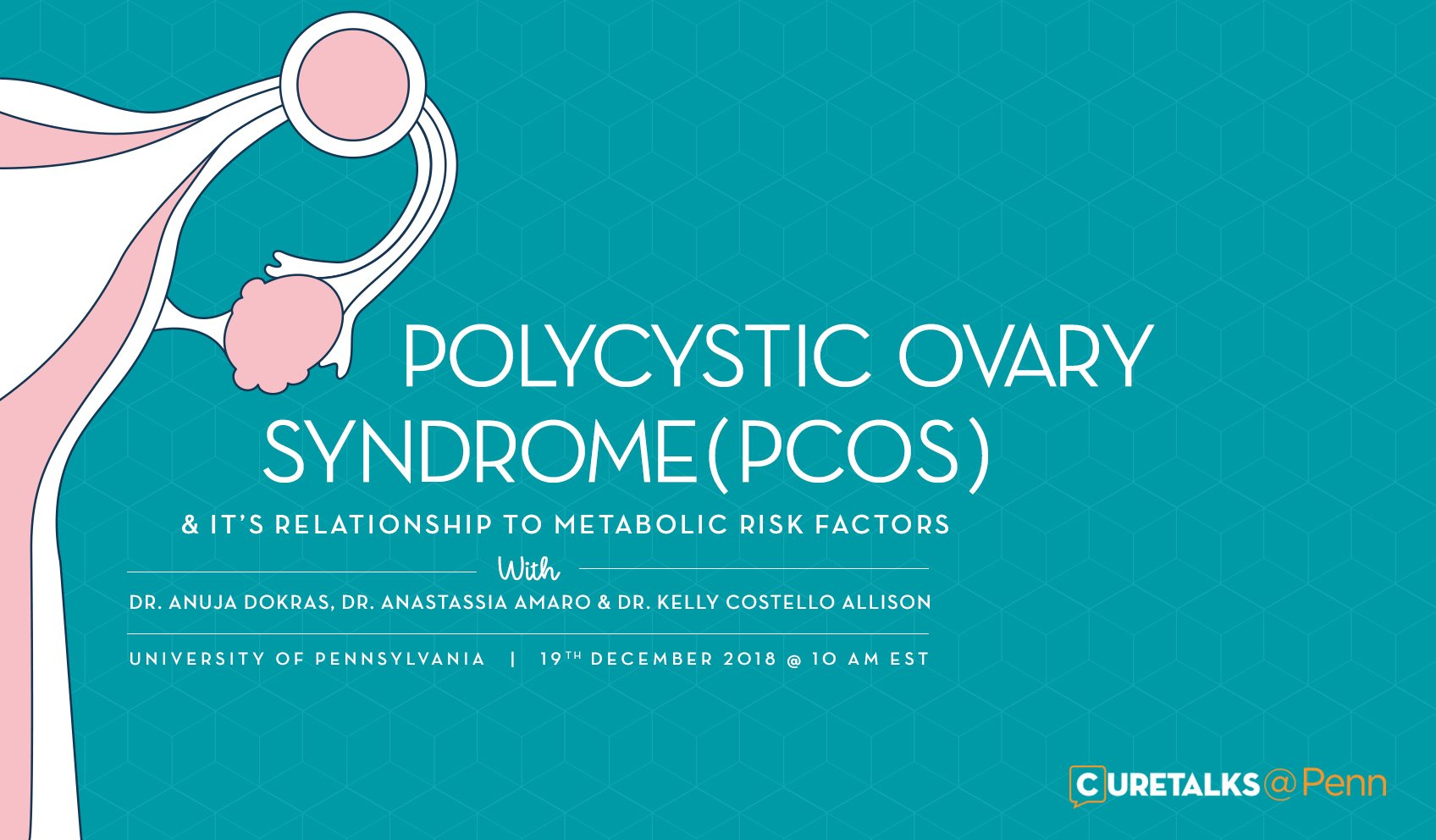 Polycystic Ovary Syndrome (PCOS) & It's Relationship to Metabolic Risk Factors (Obesity, Diabetes, Hair growth and more): Polycystic ovary syndrome (PCOS) is a health condition that affects 1 in 10 women of childbearing age. Women with PCOS have a hormonal imbalance and metabolism problems that may lead to obesity, cardiovascular disease, type 2 diabetes, infertility, endometrial cancer and more. In the absence of a complete cure, efficient management of the condition gains importance and information is the key.
We are talking to a panel of PCOS experts from the University of Pennsylvania to understand the condition, available treatments, and best ways to manage symptoms.
The discussion will also touch upon the details of the PCOS-COMET study being conducted by Penn PCOS Center to compare the effects of medications on metabolic risk factors such as weight, blood pressure, glucose, and cholesterol levels in overweight/obese women with Dr. Anuja Dokras, Director PCOS Center, and principal investigator of the study. Dr. Anastassia Amaro and Dr. Kelly Costello Allison from the Center for Weight and Eating Disorder of the University of Pennsylvania will help us take a deep dive to understand the nuances of weight, nutrition, psychology and related effects on PCOS and its management.
CureTalks — Polycystic Ovary Syndrome (PCOS) & It's Relationship to Metabolic Risk Factors (Obesity, Diabetes, Hair growth and more)
Talk on Wednesday, December 19, 2018 at 10 a.m. EST

Dr. Anuja Dokras | Dr. Anastassia Amaro | Dr. Kelly Allison | Valerie Landis | Priya Menon
Anuja Dokras, MD, PhD, is director of the Penn Polycystic Ovary Syndrome Center, medical director of the Reproductive Surgical Facility, and professor of Obstetrics and Gynecology at the Hospital of the University of Pennsylvania. She provides reproductive medicine services to patients in the Adrenal and Puberty Program at The Children's Hospital of Philadelphia. Dr Dokras directs the Penn PCOS center which offers comprehensive gynecological, reproductive, dermatological, metabolic, nutritional and psychological care to women with PCOS. She also Directs the Preimplantation Genetic Diagnosis program at Penn Fertility Care.
Anastassia Amaro, MD is an Assistant Professor in the Division of Endocrinology and Metabolism at the Perelman School of Medicine at the University of Pennsylvania and a research physician at the Center for Weight and Eating Disorders. Board-certified in both internal medicine and endocrinology, Dr. Amaro is a specialist in the diagnosis, management, and treatment of endocrinological conditions including diabetes, weight and lipid disorders. Her research interests include various treatment methods of obesity and diabetes, and she is part of the research team at the Center for Weight and Eating Disorders.
Dr. Kelly C. Allison Ph.D. is an Associate Professor of Psychology in Psychiatry at the Perelman School of Medicine at the University of Pennsylvania and Director of the Center for Weight and Eating Disorders. Dr. Allison's research interests include characterizing and treating the night eating syndrome, binge eating disorder, and the role of weight and eating behaviors on reproductive health. She is also engaged in studies on bariatric surgery outcomes and clinical trials for weight and disordered eating. Dr. Allison enjoys providing psychotherapy related to weight management and disordered eating at CWED, and she provides pre-operative bariatric surgery psychological evaluations at Penn Medicine's bariatric program."
Valerie Landis has been working in the women's healthcare field for the last decade. She focuses on guiding women of any reproductive age through the complex and challenging paths of fertility decisions. Valerie merged her medical career and fertility passion when she created and founded the educational website eggsperience.com. Valerie has traveled to build partnerships with fertility clinics all across Europe and the United States. Valerie hopes that by starting the conversation about protecting our future-selves with non-bias and fact-based information, women will feel inspired, brave, and act progressively today. She speaks openly about her personal egg freezing experience and family planning decisions along with highlighting a collection of first-hand accounts from other women's journeys. Learn more about Valerie via her online social media accounts or linktree.
Priya Menon is a Scientific Media Editor at TrialX/Applied Informatics, writes about research in frontline medicine, health, and healthcare and manages the internet radio talk show CureTalks from India. She holds a masters in Microbiology and her experience include research in molecular biology and genetics. She amalgamates her writing interests and research inclinations through scientific communication and conveys intricate scientific content to a wider audience. She is an avid reader, enjoys classical dance and theatre.
Original link CureTalks 20 December 2018: https://www.curetalks.com/event/rsvp/Polycystic-Ovary-Syndrome-PCOS-It-s-Relationship-to-Metabolic-Risk-Factors-Obesity-Diabetes-Hair-growth-and-more-/321/