Listen to women who have already frozen their eggs and what they are saying now. Hear how they came to this conclusion and why it was the best choice for them. Figure out how these stories apply to your future choices and what you could take advantage of. Send to others who are also searching for examples of how to navigate through the cluster of fertility technology.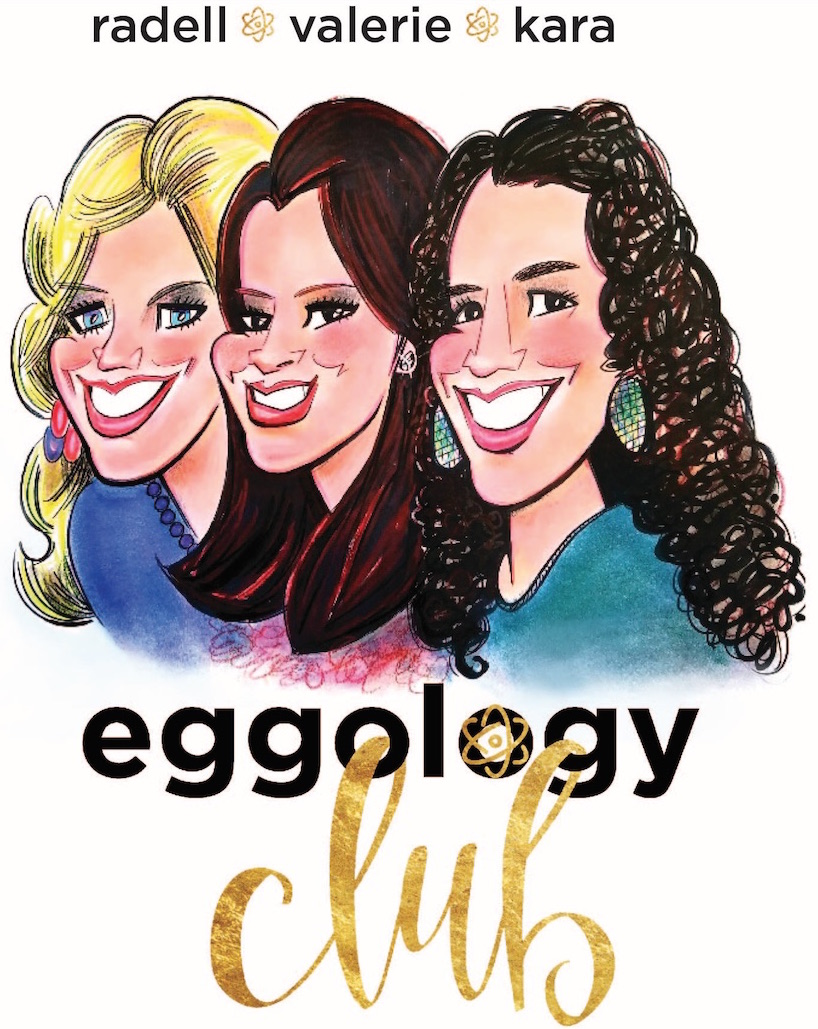 Eggology Club Podcast — A podcast series and club dedicated to exploring new pathways to parenthood in the world of fertility. Eggology Club is hosted by Radell Peischler, Valerie Landis, and the spice to our nice Kara Egber. Join us to discover a new terminology for reaching your family planning goals. Check out: eggologyclub.com.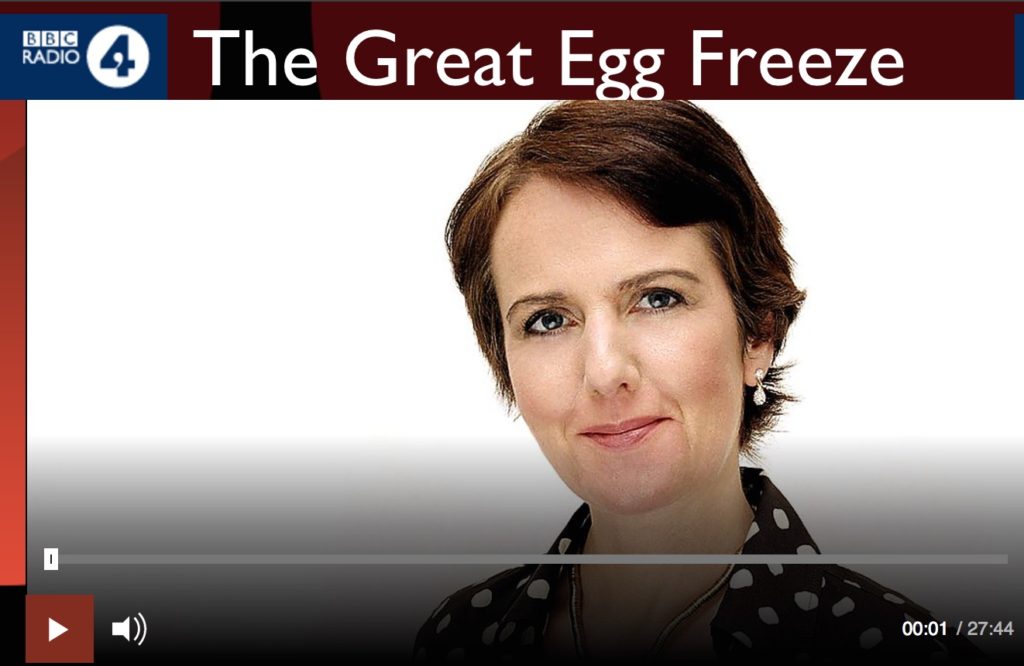 BBC radio 4 — The Great Egg Freeze
Freezing eggs seems the ultimate in planning a family and a career – Fi Glover takes a personal look at a growing trend – egg freezing offered as a corporate work benefit. She speaks to women who have done it, as well as doctors and employers.

CURETALKS — Discussions for Solutions. Connect. Learn. Stay Healthy


April 8, 2016: How Old Is Too Old — Topics: infertility, fertility, age factors
July 7, 2016: Family Building Using Assisted Reproductive Techniques — Topics: legal aspects, ART, IVF, family planning and building
September 9, 2016: Male Infertility and Sexual Health — Topics: male sperm, male infertility, sexual health
January 19, 2017: Social Egg Freezing, All You Need To Know — Topics: egg freezing, cryopreservation, social changes, motherhood, fertility
Soloish — Lisa Bonos — Putting Your Fertility on Ice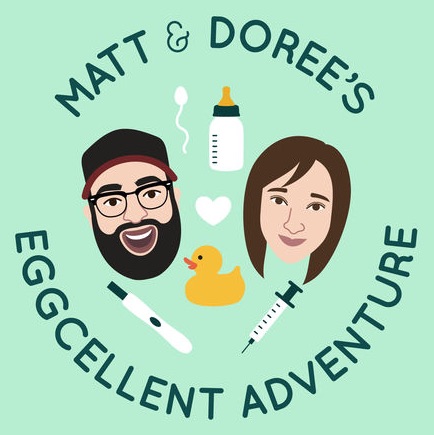 Matt & Doree's Eggcellent Adventure — Matt Mira & Doree Shafrir
Facebook: Eggcellent Adventures
Twitter: @EggcellentPod
Matt Mira and Doree Shafrir want to have a baby, but they need a little help from science. Come along on their wild, crazy, and often unintentionally hilarious journey through the world of infertility. Sometimes their friends will show up to tell their stories, too.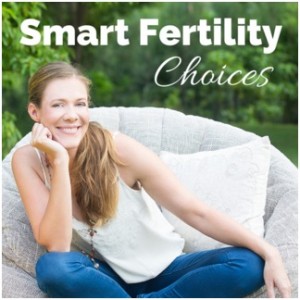 Smart Fertility Choices — Kym Campbell — Episodes 1 – 5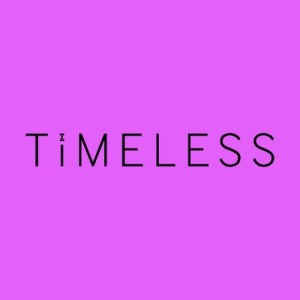 TIMELESS — Soundcloud — The panel was chaired by Sarah Norcross, Director of the Progress Educational Trust. The speaking panelists include:
–Emily Jackson, Professor of Law, London School of Economics and Political Science
–Yacoub Khalaf, Medical Director of the Assisted Conception Unit at Guy's & St Thomas' Hospital
—Helen Johnson founder of personal development company The Goddess Acumen, who had her eggs frozen last year
–Dr Françoise Shenfield, Infertility specialist at University College London Hospital

The Fertility Podcast — Tracey Sainsbury — Should You Freeze Your Eggs?

Dispatch Radio — Elizabeth Higgins Clark — Egg Freezing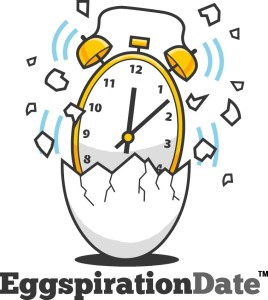 EggspirationDate — The Book Audio as excerpts from the book in the audio files.
We hope that through our work on this book, our social media platform, and our in person engagements, that we further educate women, change how girls are taught about fertility, and assist those using today's technology to extend their fertility options tomorrow.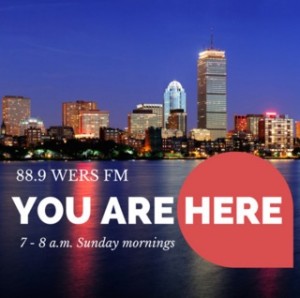 You Are Here from WERS 88.9 FM —
The Odd & Modern Process For Meeting Your Sperm Donor Siblings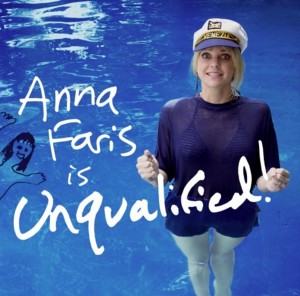 Ann Faris Is Unqualified — Not-so-great relationship advice from completely unqualified Hollywood types.
Episode 23 Oliva Munn – Part One – Egg Freezing Experience
Episode 24 Olivia Munn – Part Two – Egg Freezing Experience
Fertility Revolution — Julie Chang — Interview of Leahjane Lavin

The Mixed Experience — Heidi Durrow — Interview of Jennifer Frappier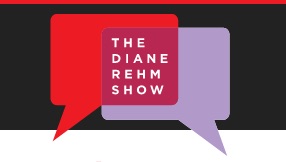 The Diane Rehm Show — Why More And More Women Are Choosing To Freeze Their Eggs

Listen to all of these NPR shows on Media Player Playlist.
May 2011 — Egg Freezing Puts The Biological Clock On Hold
May 2011 — Nudging Young Women To Think About Fertility
December 2012 — Chance to Pause Biological Clock with Ovarian Transplant Stirs Debate
May 2013 — No Longer Experimental Egg Freezing May Appeal To More Women
October 2014 — Freezing a Woman's Eggs can be Emotionally and Financially Costly
October 2014 — Corporate Egg Freezing Offers May Send the Wrong Message
October 2014 — Silicon Valley Companies Add New Benefit for Women Egg Freezing
October 2014 — Tech Week Egg Freezing Gamergate and Online Giving
August 2015 — Freezing Eggs May Reduce A Woman's Odds of Success with IVF
August 2015 — After a Divorce What Happens to a Couples Frozen Embryos
October 2015 — Women Find a Fertility Test Isn't as Reliable as They'd Like
November 2015 — More Women Are Freezing Their Eggs But Will They Ever Use Them
February 2016 — Pentagon Launches Pilot Program for Military Women
February 2016 — Pentagon Makes Changes to be More Family Friendly
<|  resources videos  |  home  |  resources blogs |>