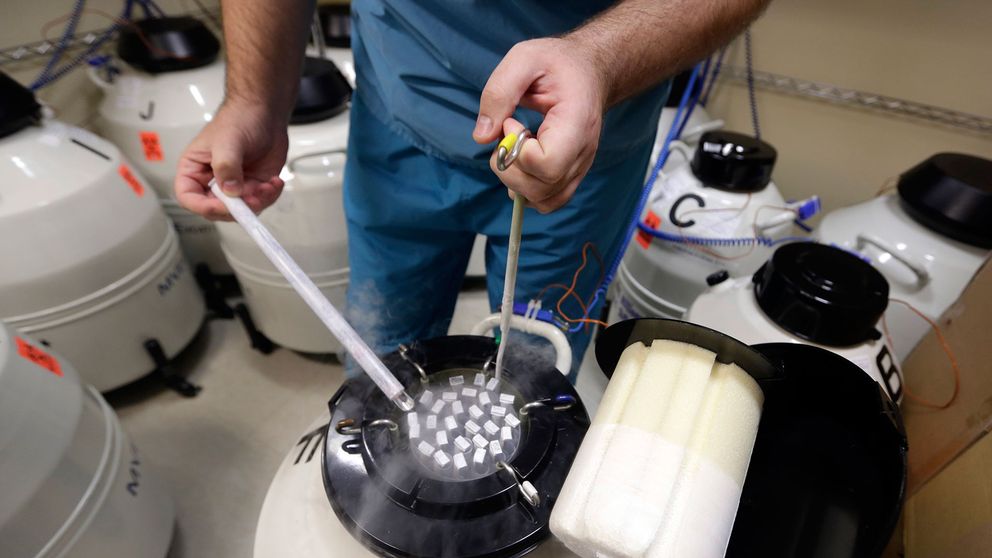 Paying the yearly fertility storage bill is not the only thing women have to worry about after freezing eggs. In the United Kingdom, Australia, and New Zealand, women also have to worry about how many years their eggs have been frozen due to an outdated law that requires fertility clinics (even private clinics) to mandate and destroy anything over 10 years old.

Not every country or state is created equally when it comes to reproductive health and fertility choices. Some laws in 13-15 states in the United States, for example, cover egg freezing or fertility planning choices as part of their state's healthcare coverages, while the other 35 states do not.

The same is true for countries' regulations on fertility laws. There are countries that have strict bans on same-sex (like France or Spain), third party reproductive choices (Italy), tough laws against surrogacy options (Canada), or even storage limits like in the UK and Australia.

The fertility charity the Progress Educational Trust (PET) is trying to change these old and dated laws. Women are being pushed to delay egg freezing later and later because of the 10-year storage limit and not freezing younger when they could benefit most from the cryopreservation technology now that vitrification has improved the process and is standard of care. Sarah Norcross, director of Progress Educational Trust discusses the issues about these fertility storage laws and regulations for women in the United Kingdom.

In the UK, there were up to 234 women who froze in 2010 and 1,463 freezing cycles carried out in 2017, with a total of around 75,000 fertility treatments to-date according to figures from the Human Fertilisation and Embryology Authority. Freezing eggs for social reasons is growing in popularity while the numbers remain relatively lower than the numbers of freezers in the United States.

There is no scientific reason for the 10-year limit on the storage of gamete materials like frozen eggs or sperm regardless of where it is being stored. News stories have reported how the longest stored embryo was recently implanted and turned into a live birth even though it was stored for over 24-years. According to embryologists and scientists in the field, once either egg, sperm, or embryo is frozen it can remain frozen independently without changing the genetic makeup of that material.

These regulations in the UK are forcing some women to choose between destroying their eggs before they are ready to become parents or be forced to paying high prices to move their eggs outside of the country. The UK law includes women who chose to freeze for elective reasons to increase their chances of having a child later in life or if they have frozen for medical reasons. However, the women who froze their eggs before having cancer treatment or medical reasons are allowed to storage for an additional 55 years after filing a request. There is a lack of data on the numbers of women in each group.


The hashtag campaign #ExtendTheLimit for increasing the storage laws in the UK was recently started but has to be recreated after Parliament paused elections. Stay tuned with PET's efforts to help women fight for their reproductive rights and join the campaign via Facebook Progress Educational Trust, Twitter @BioNewsUK, and Instagram @ProgressEducationalTrust.

Worried about how storage laws will affect you personally? Do you live in the United Kingdom, Australia, or New Zealand? Do you have a story about how the storage laws are effecting your fertility journey you would like to share? Please reach out and send us a note at [email protected]. We will connect you to those that can help move your eggs to safety or get you in touch with a journalist who will tell your egg freezing struggles and how this storage law is affecting your choices and goals for parenthood. Your voice matters and more women that speak out will help drive better fertility laws to be adopted.


Other related articles on the fertility storage limit topic:

>> Progress Educational Trust Press Release

>> PET's #ExtendTheLimit campaign to change the storage limit for social egg freezing launches

>> PET launches egg freezing #ExtendTheLimit campaign

>> Egg freezing petition forced to close by general election

>> BBC: Frozen eggs storage 10-year limit 'should be changed'

>> UK Huffington Post: Women Should Be Able To Freeze Eggs For More Than 10 Years, Say Campaigners

>> The Guardian: Fertility experts call for ditching of UK's 10-year limit on egg-freezing

>> The Guardian: Legal Challenge UK 10-Year Limit for Egg Freezing

>> Fertility Road: Progress Educational Trust Urges UK Government to Change Ten Year Storage Limits on Frozen Eggs

>> News Medical: Fertility charity campaigns for 10-year storage limit on frozen eggs to be extended

>> IVF.net: PET Launches Egg Freezing #ExtendTheLimit Campaign

>> IMTJ.com: Calls Extend Egg Freezing Limit UK

>> IVF Babble: Fertility Campaigners Lobby Government Change Social Egg Freezing Laws

>> Grazia Daily: Egg Freezing Limit Cost Reality

>> Fertility Network UK: PET Launches Egg Freezing Extend The Limit Campaign