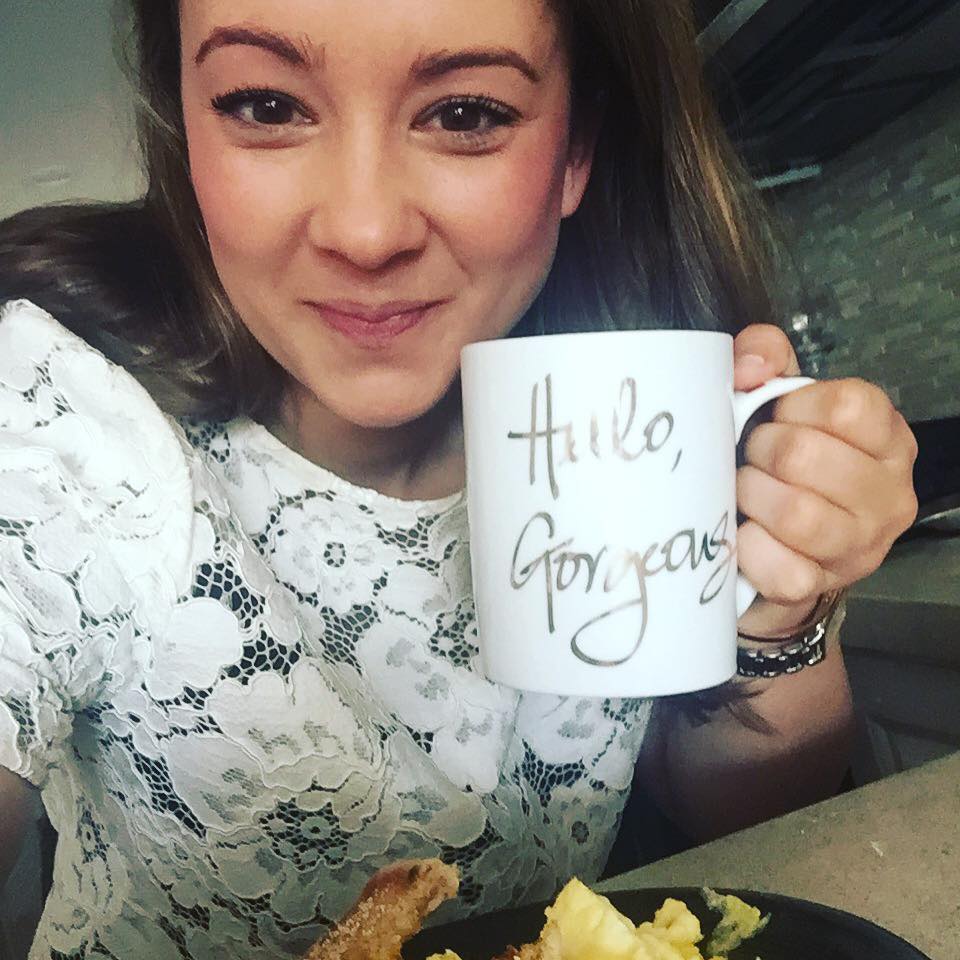 Welcome to the #FeatureFriday by Shine Fertility where we are SHINING LIGHT on some of the amazing women in our world! We started our #FeatureFriday series to highlight some of the amazing women we are honored to know and want the world to know about them too!
Our feature this week is Valerie Landis founder of Eggsperience website and co-founder of Eggology Club podcast!  I met Valerie a few years ago and we had a common passion – helping people navigate their fertility health.  Valerie is a doer, a go-getter, you feel the passion and energy she has for what she does radiating from her when you meet her!  I am so excited for you all to meet Valerie and learn more about Eggsperience and Eggology Club!
Meet Valerie 
Tell us a little about Eggsperience website & Eggology Club podcast and their mission. How did you come up with the concept and how hard was it to get started?
The Eggsperience.com is an educational website and blog full of content, videos, testimonials, and resources about egg freezing and family planning options. I created the website after my own journey experiencing egg freezing, desire to connect with other egg freezers, and my quest to feel normal about this new emerging technology. I began to write as a form of therapy and outlet during the hormone injection weeks and sort through the unexpected emotional components I faced. Before long I had over 30,000 words and nowhere to put them, so the logical thing was start a website.

From there I have since created the Eggology Club podcast to change the conversation surrounding egg freezing and stigmas with family planning options. I figured it was time to take the conversation bigger than just within my friend group and help inspire and empower other women who may want to make similar decisions to prolong their fertility futures.

I would say that thanks to my creative job at the time where I gained first-hand experience managing all the social media pages, website, and blog for my employer, it helped catapult me into creating my own website. I had learn some HTML coding in high school, but these days you don't even need that to build a site. I'm 100% self-taught. It is amazing the things you can learn by watching YouTube. I also suggest don't be afraid to ask for help from people you know. It is amazing how there are people in your network that can point you in the right direction. As for podcasting, that wasn't as easy, mostly because there are many different setups or combos of equipment that one can have or use to create a show. I really recommend just driving head first to get your hand and feet wet. It doesn't have to be perfect at first; the best part about online is that you can edit and change it. Beginning is the hardest step, so just begin.
1. What was the moment you knew you wanted to do Eggsperience website and Eggology Club Podcast?
Many tiny seeds were planted along my career that lead me to the point to reach women with my website Eggsperience.com and podcast Eggology Club. It all started for my desire to reach a bigger audience and share my knowledge with others. I wasn't concern with so much as how as what I would create. A website was a very logical first step back then, now podcasting feels just as much like the most appropriate to changing the conversation we all have around family planning, fertility, and egg freezing. I want to be voice whispering in your ear encouraging you to take action. I hope to be a role model of success for women to look up to, share, learn from, feel empowered, and seek advice from.
2. What one Eggsperience / Eggology Club (post/project/moment) are you the most proud of and why?
There have been many proud moments throughout Eggsperience.com two year existence, but after I think I can't get any bigger then that most recent accomplishment or moment, something else magical happens. Eggology Clubis starting to happen and transform in the same way. Here are some examples of these extra special happenings. I landed some big press interview with BBC Radio4, NBC News, Healthline, Washington Post, and more. I have had the pleasure to interview some famous women myself such as Kyra Phillips (CNN news anchor), Sarah Elizabeth Richards (well-known book author and journalist), and Louise Brown (1st IVF baby) about their fertility stories. These have been important success to help fuel my passion and continue down the path of being open and outspoken about fertility.
3. How would you describe a typical day? What's your morning to evening routine?
Well no day is really the same. Often times I know my schedule only 1 or 2 weeks ahead of time. My typical day either includes travel or working remotely. I spend a great deal of time networking, on the phone, building relationships, creating partnerships, and building vendor lists. I spend a great deal of time working on my computer to create new content, podcasts, articles, and exploring ways to impact the general public. My morning often starts before the crack of dawn due to Europe time zones and communications I often participate in. I'm a true night owl so I also usually up late to launch the next content piece or podcast for the new post day.
4. Describe yourself in 3 words?
Three words I would use to describe myself include: creative, passionate, and sincere. I have found great joy in creative work, thinking outside the box. I am always passionate about the work that I do and anything I put my name to, it was just how I was raised to live. And I'm very sincere and genuinely interested in helping people build the life they dream and imagine to live now.
5. What individuals, celebrities, entrepreneurs, public figures inspire you?
I truly admire Sara Blakely the founder of Spanx for her vision to think outside the box and not take no for an answer even when no one else could see what she wanted to create. I feel like Beyoncé is my soul sister, not only because we share the same birthday, but for how passionate she is for her work and music that inspires others to live bravely also.  And everyday entrepreneur friend, Shalene Petricek who have founded Nest Egg Fertility, who is truly reshaping today's fertility system and reproductive health choices.
6. If you weren't in the egg freezing/fertility world…and could be anything else…what would it be?
If I wasn't working in the wonderful world of fertility, I think the only other thing I would want to be doing and have done in the past is work in oncology and research field. Innovation now feels apart of my blood and DNA, so if I wasn't already making waves in that industry finding cures and new treatment options within oncology work would be my next best option.
7. You have a free hour, what do you do with your time?
These days when or if I have a free hour, I try to spend it working on my passion projects, catching up with old friends or maintaining friendships, or if all the to-do items are checked off my list for the day I bing watch reality TV and decompress from it all. I also enjoy doing yoga or mediation and listening to music to relax.

8. What's on your music playlist? What inspires you?  
Funny you should ask, because music runs my world. I love new unheard of artists to the classics and oldies but goodies. I think I have a time frame of music for every important memory or moment in my life. I love and could listen to Coldplay, Sinatra, Damien Rice, Adele, Alanis Morissette, to 3 Doors Down and even a little Taylor Swift, and of course Beyoncé on repeat. I'm inspired by music that gives me goose bumps and feel so deeply with the lyrics and sound components.  It is a true gift for music to make someone feel and definitely important to feed my soul.

9. What's your guilty pleasure?
My guilty pleasure includes what most may consider a weekly or monthly luxurious pleasure, but that I rarely do for myself except for special events due to my rigorous travel schedule and lack of free time that I'm willing to commit to doing it…I find the simple act of getting my hair and nails done as my guilty girly pleasure. It makes me feel like a whole new human being and is the fastest makeover for jump-starting feeling great. I also really love fresh cut flowers in my condo to make me smile.
10. Favorite local coffee shop?
I live downtown Chicago so coffee shops run wild on every corner. I have found 3Greens, Revival Food Hall, Peaches & Green to be the most inspiring places to work, great snack foods to keep working and offer free wifi, so chances are you will find me there often. I work remote have been fortunate to learn how to work and sleep just about anywhere.

11. Food you can't live without?
I'm a true Midwest gal even though I was raised on the East coast and live for my next meal. I have many favorite foods that I think that I can't live without. A few would include a good margarita pizza to avocado toast to waffles. I love breakfast foods that I could have for every meal if I didn't care about the scale or my weight. And I can never turn down a specialty donut.

12. Wine, beer or cocktail?
I have never been a big beer fan, but have begun to like Stiegl Radler. I can always drink wine especially with a nice steak, cheese/cracker combo, or just by itself solo. Cocktails are especially fun when dining out or out with the girls for a little R&R social time.
13. Favorite motivational quote?
A quote I live by and one that is the most significant for me is by Maya Angelou.
"I've learned that people will forget what you said, people will forget what you did, but people will never forget how you made them feel."
It is among the most valuable advice that I have ever learned and essential insight that a skilled communicator must be aware of the emotional valence of his or her words.

14. If you could go on vacation anywhere, where would you go?
Dangerous question since I'm a travel junkie and value experiences over things. I have a pretty long bucket list and more places I cross off the more I begin to add to my list. I have been to some amazing adventures and places like Paris, London, Amsterdam, Barbados, many places in Mexico and Canada, to Brazil and Rio, to Peru and Machu Picchu.
The more vacations or travel I do, makes me realize how big the world is and how much there is to discover. Right now, the top of my list if I had the opportunity for time off would be to walk the Camino in Spain with my father. It is 800 km (500 mile) famous pilgrimage that carries thousands of years of history and religious significance meaning for individuals. Check out the amazing movie, The Way to learn more about the Camino trail.
15. What's next for Eggsperience website and Eggology Club Podcast?
Great question. There are many plans and ideas for both the website Eggsperience.com and the podcast Eggology Club to grow. The first coming soon is bringing online content to in-person meet up groups and community events to connecting women together. The next facet for Eggsperience.com and Eggology Club is to start affecting employers benefit programs, assisting coverage for increased access to and lowering the costs of fertility treatments for the individuals planning for the family futures. Of course great partnerships and affiliate groups will continue to be a growth aspect for both.
If you want to learn more about Valerie and Eggsperience or Eggology Club see her bio below!
ABOUT VALERIE LANDIS
Valerie Landis has been working in women's health field for the last decade. Her medical career experiences and passion for helping women merged when she founded her educational website eggsperience.com. She focuses on guiding women of any reproductive age through the complex and challenging paths of fertility decisions. Valerie compliments the Eggsperience website with a fertility podcast called Eggology Club that she hosts to continue to change the conversation around cryopreservation and egg freezing. Valerie provides non-bias and fact-based information to empower women to feel inspired, brave, and act progressively to take control of their future families and protect their fertility. She speaks openly about her own personal egg freezing experience and family planning decisions along with highlighting a collection of first-hand accounts from other women's fertility journeys. Learn more and keep up with Valerie Landis via social media pages: @valeriedlandis | @eggsperiences | @eggologyclub.